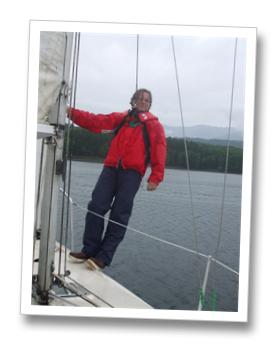 Myself, John and my Mum went up to the boat on Sunday.  It wasn't a very pleasant day as you can see from my wet hair, and the wind was rubbish to begin with but we had fun nonetheless.
The picture above is me clipped into the spinnaker halyard hanging off the side of the boat.  That is what spinnaker halyards are there for right?
The wind picked up a bit later but whilst it was still relatively calm the three of us worked out how to fly the spinnaker, which is something none of us had done before.  It took quite a lot of messing around but we finally got it up even though we did kinda do it a little wrong as I now think the spinnaker bag should have gone up the mast.  Tis but a technicality that I have to discuss with Keith.  Below is a happy me with the spinnaker full of wind.  It's a real pity that we couldn't have got a picture from the shore as it would have looked very impressive.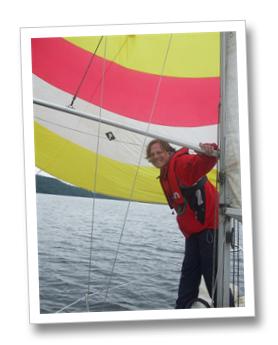 After working out how to fly the spinnaker we decided to do another downwind run which meant we only got off the water at about 5.30 or 6pm.  It was quite a long day, so much so that Mummy Steele had to have a snooze on Monday whilst Amelia was in bed.  The famous Steele siesta.