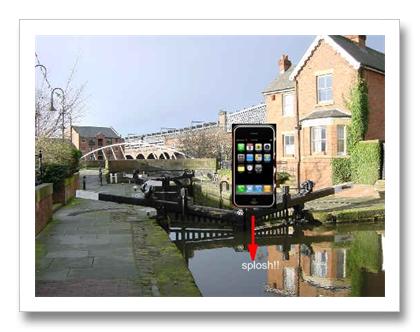 The picture above is an artists impression of the moment my iPhone ended up in the Rochdale canal.  The image above isn't exactly accurate as it was in my pocket at the time so there should be a fat northern bloke attached to the jesus phone.  Additionally my hazy memory does not recall a large red arrow nor a white "splosh!!" hovering above the canal.
It's all Simkiss' fault.  Inviting us out for a boozy do at Rochdale Hornets Rugby match, force feeding us beers in the Dog and Partidge beforehand and then dragging us all down to "The Ship" in Castleton which serves beer AND is right next to a canal.  What kind of moron builds a pub next to a canal – it's just an iphone disaster waiting to happen.
Anyway, it wasn't all bad.  A quick youTube search reveals it's probably just in need of a good soaking in rubbing alcohol and a replacement battery which is currently on order. 
However in order that I may not be without an iPhone for too long I managed to acquire a 3G version today, got it all synced up and then knocked a glass of vimto over on top of it.  It's still working which is an improvement on the waterproof-ness of the last one.
Anybody willing to take bets on how many months the new phone will last me?  I'm guessing about 3.