We set off from La Palma with pretty light conditions since we were still covered from the winds by the island.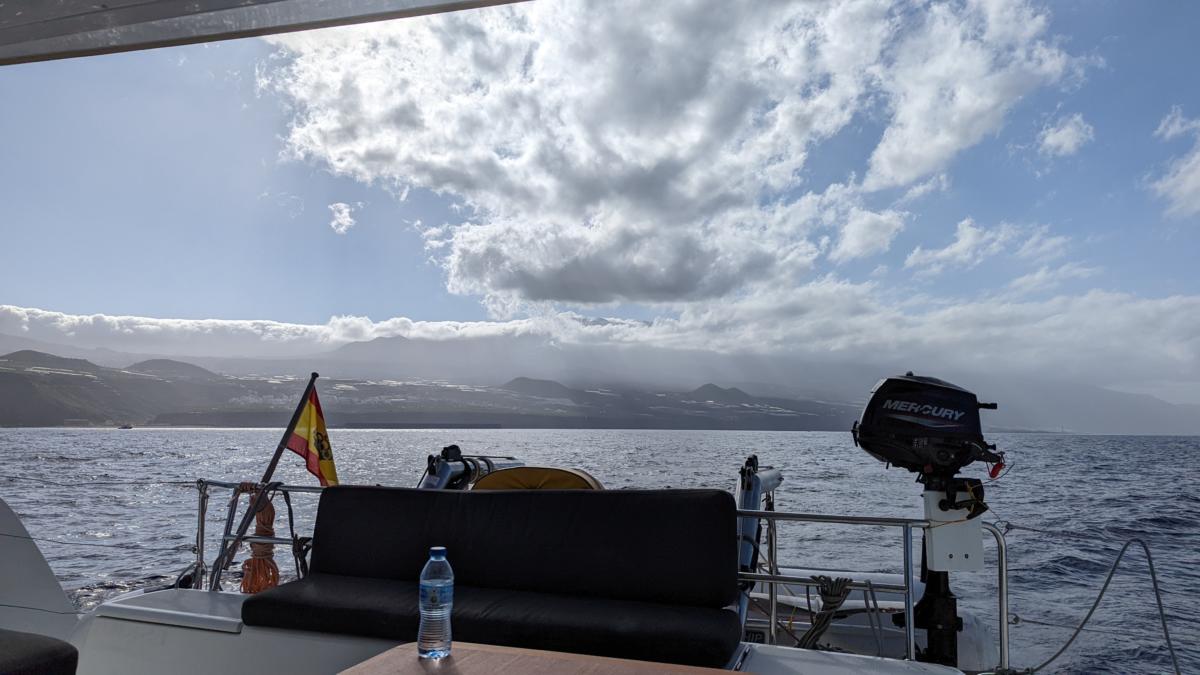 Things got pretty lumpy as soon as we were out of the lee of the island with 20 kts of wind and a large Atlantic swell.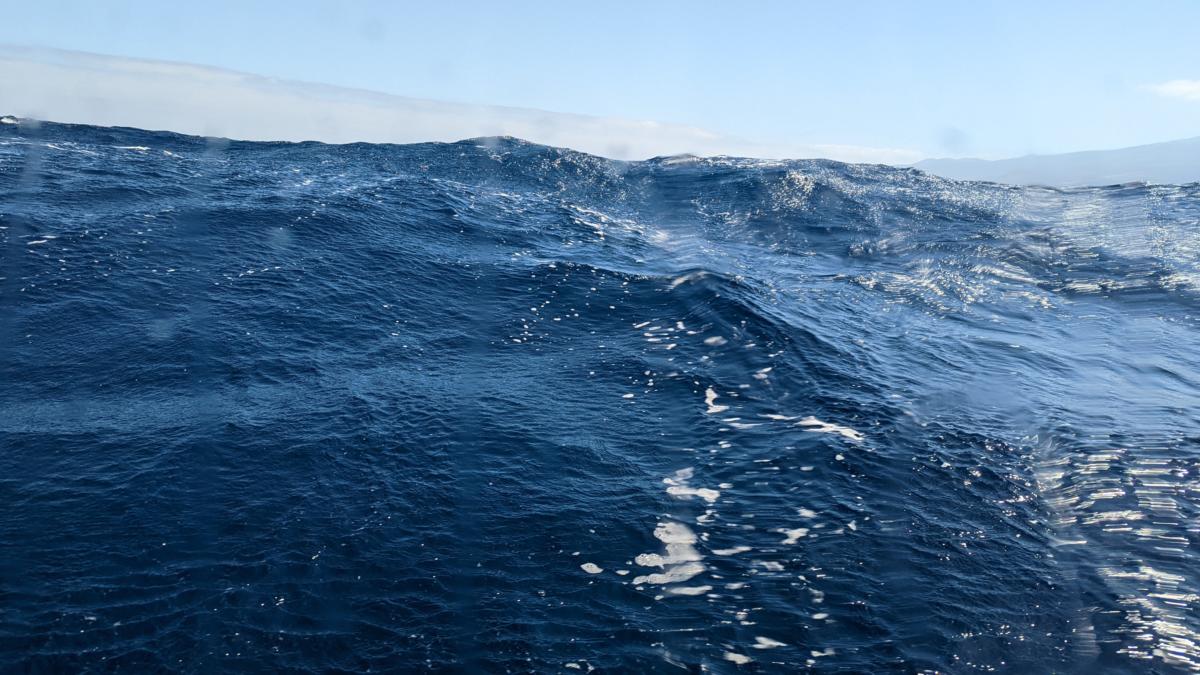 Twenty knots of wind is usually quite good fun and one can make good progress in these winds – except the wind was coming from NE which was almost exactly the way we wanted to go. So it was pretty slow progress with the wind in your face and Atlantic spray covering you every few minutes. On my first shift I didn't think I'd need my thermals. Big mistake. By the end I was cold wet and miserable.
For the first night shift I wore all my wet weather gear, thermals, hat and hood. So midnight until 4am was more bearable but I was cold and hungry as I climbed into bed.
It was supposed to be a 36hr passage but as I started my day shift the next day with 120nm to go it became obvious we would have another night shift before reaching Madeira.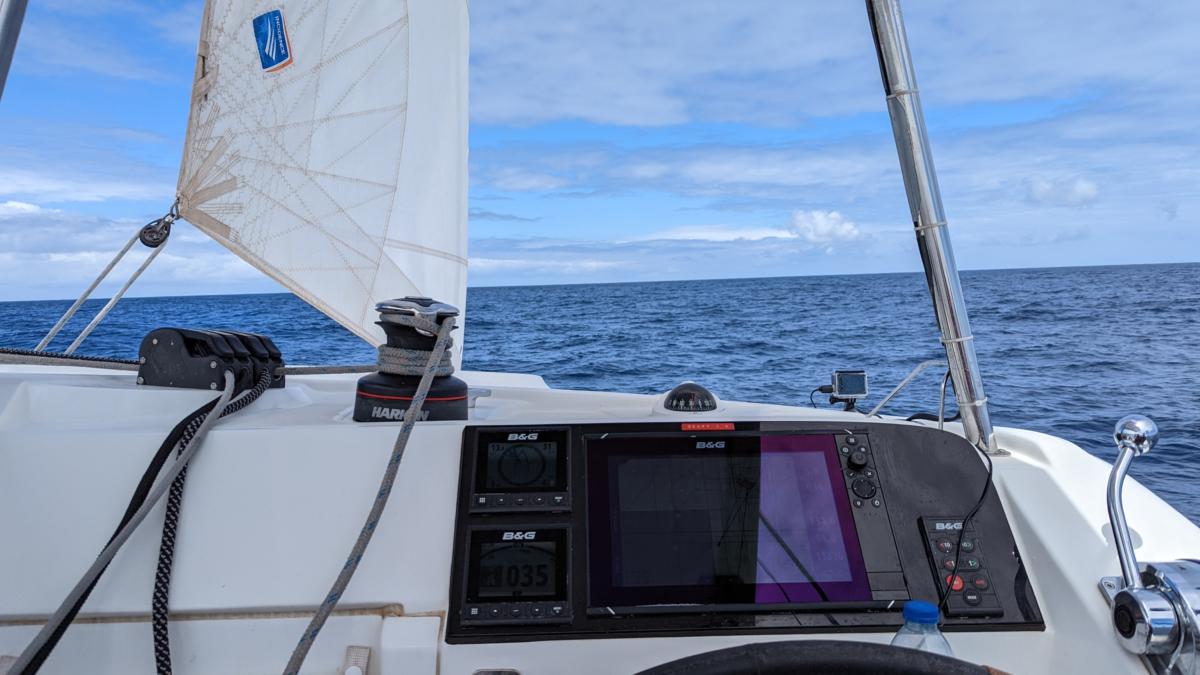 The second day was pretty calm as we headed north but again making slow progress.
The second night shift is when things became fun. At some point a little after midnight in 25 kts winds Michal and I heard a strange noise. In the dark we couldn't determine what it was and just assumed it was ok as the boat continued sailing well. I went to bed at about 1am and Michal continued his shift. At 3am the winds increased so the decision was made to put a reef in the mainsail. So the mainsail was lowered a little and the boom came crashing onto the cabin roof. This was definitely not supposed to happen. The strange noise we heard earlier was the boom lift line snapping and the boom was being held up by the sail. So now we either go full mainsail in heavy winds or drop the mainsail and secure the boom. We decided to drop the main. To do this we decided to start the engines and head into the wind. This was when we found that one of the engines had decided to stop working! So at about 80nm offshore we were down to the gib and a single engine. But we coped. We limped into Madeira planning to make repairs in the marina, but the marina was full so we had to anchor in the harbour. Things were not going well and with a 600nm passage to Gibraltar ahead of us the crew were not exactly over the moon.
Once in Madeira the starboard engine started working again and we rigged the spinnaker halyard as the boom lift and we were back in business.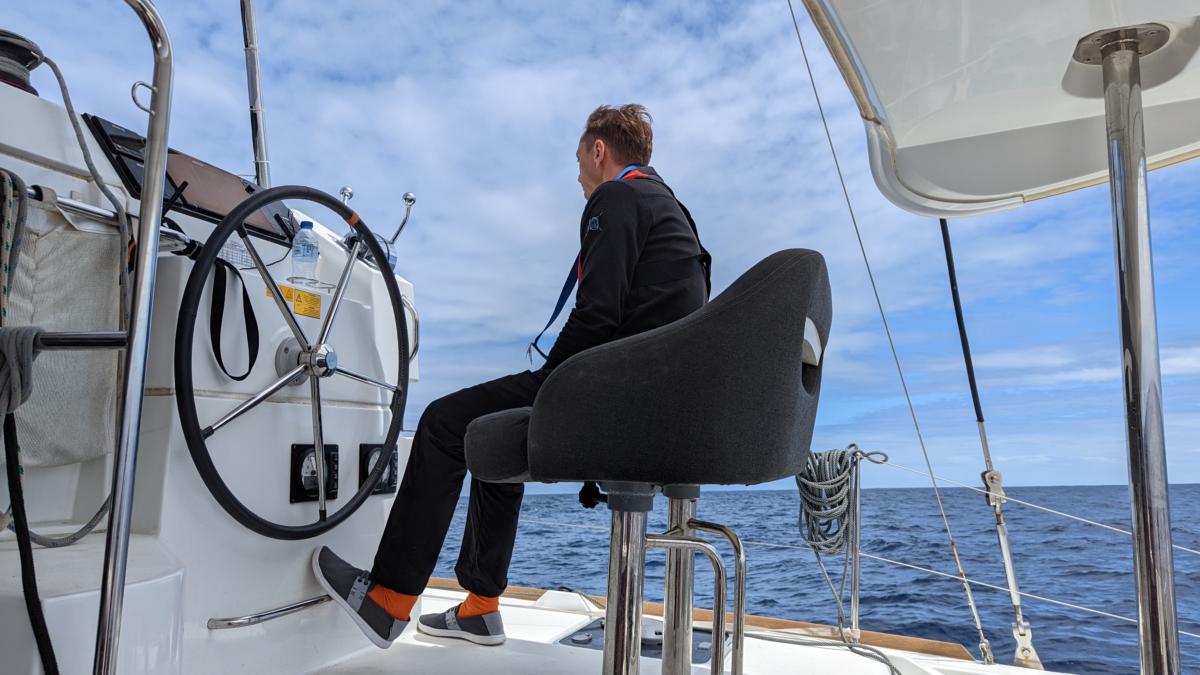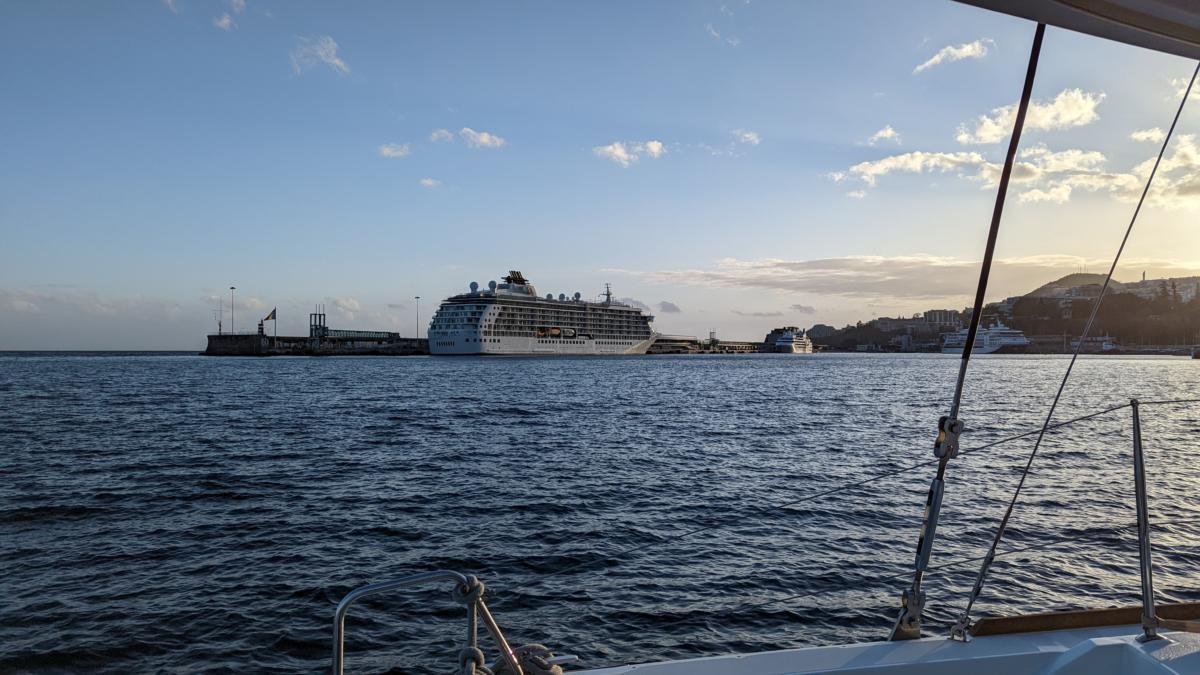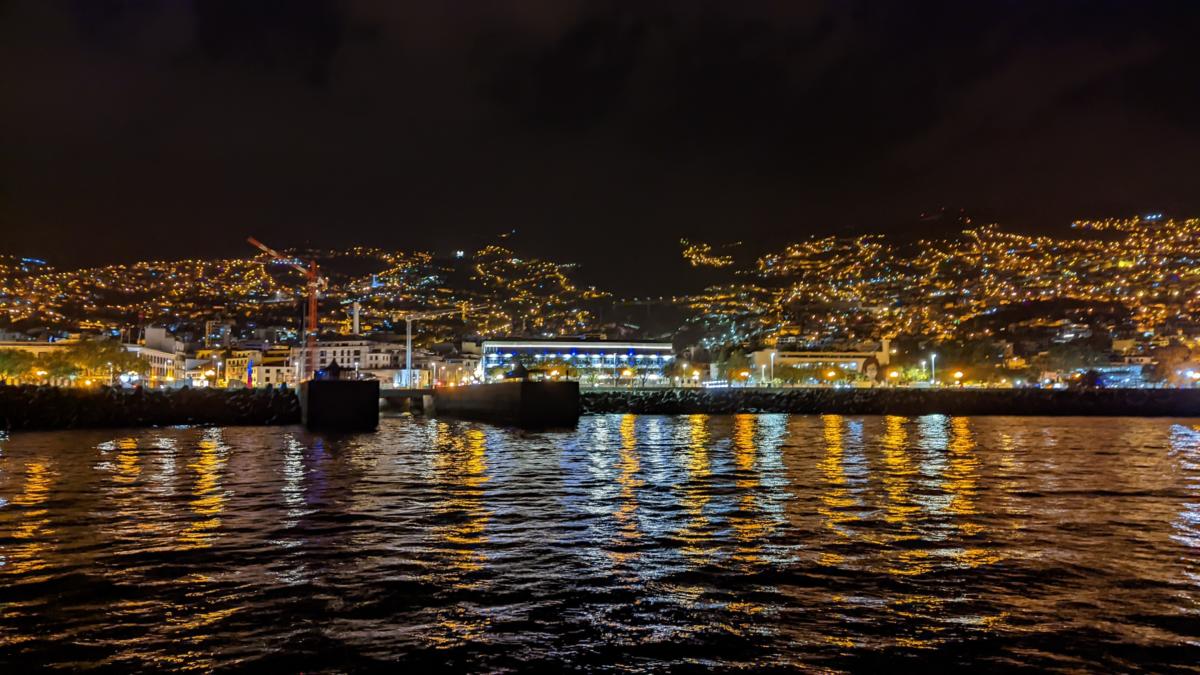 We went ashore and resupplied at the supermarket with enough provisions to keep 5 happy sailors fed for the next leg. We're heading to Gibraltar right now with about 597nm to go and light winds predicted. With good winds we'd expect the journey to take 3 days but I think it will be more like 6 or 7 nights….at sea…with no alcohol allowed whilst at sea…with 4 hour night shifts. On one hand the light winds mean it should be a more comfortable journey, but on the other hand not a drop of red or white wine will pass my lips for the best part of a week. This is not what I signed up for!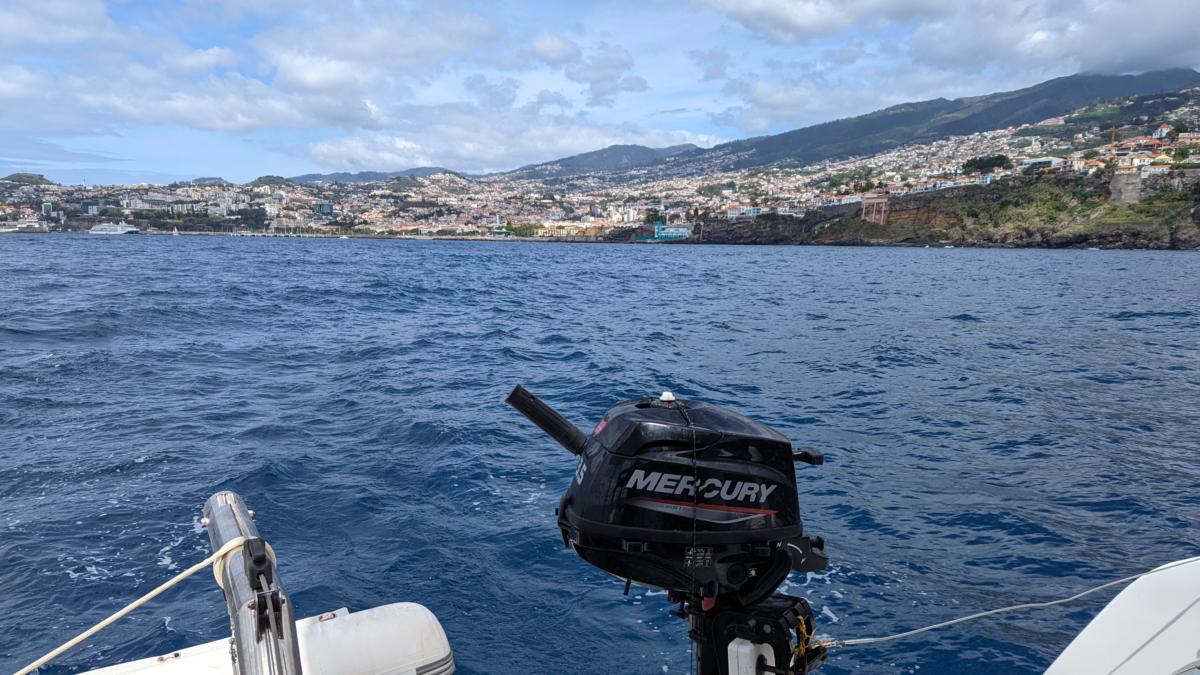 We've arranged to pick up Josh, Josh2 and Pawel in Gibraltar so the parties will get better but the sleeping arrangements will change. I have to leave my double cabin and shack up with Michal – which will be cosy.