It's been a long slog getting the ground ready but today is the day that Bill broke the ground and started putting in the concrete pillars that my bachelor pad…sorry pool room and bar …..sorry office finally got underway.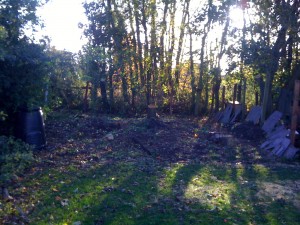 Above is the ground before I'd ripped up the tree stump and before I'd dug the trench to lay power, internet and water down to the site.
Below is the trench in mid dig with the micro digger I hired to get the job done.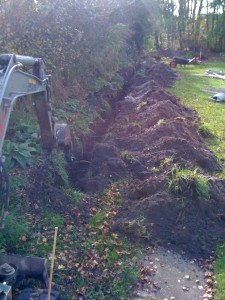 Below, in the distance is Bill getting some water to mix up the concrete. The blue ducting is carry two Cat5e cables, one of which is shielded [ thanks to Keith for these ] and a water pipe. The black cable is 16mm armoured cable which was organised by Paul. It's good to have friends!
The wooden boxes you can see are the first concrete pillars that Bill is putting in, there will be 12 in total to support the 5m by 4m floorspace, 1m of which will the raised decking at the front giving an internal space of 15 sq/m which should hopefully be enough for me.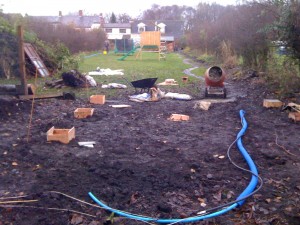 and finally, when complete this should be the view from my office window…hopefully without Bill and a big pile of stuff that needs burning!